Do you love an outdoor vacation, but the idea of roughing it sound less than appealing? What if you could go camping, but with some high-end luxurious touches? If so, then you'll find glamping to be right up your alley. It provides you the fun of camping, but with comfy digs, some resort amenities, and plenty of nature. Looking for a romantic vacation? You can find that with glamping, too. Perhaps turndown service in your tent and s'mores instead of chocolates on your pillow? Glamping is all the rage, and for good reason. To get you started on your vacation planning, here is a look at some of the best glamping destinations in the country.
Imagine embarking on a safari without the need to pack your passport. In California's Sonoma County, you'll find a 400-acre wildlife preserve, home to more than 800 wild animals. This is anything but a zoo though. Here, you can go on a safari, as well as stay overnight in a luxury tent camp.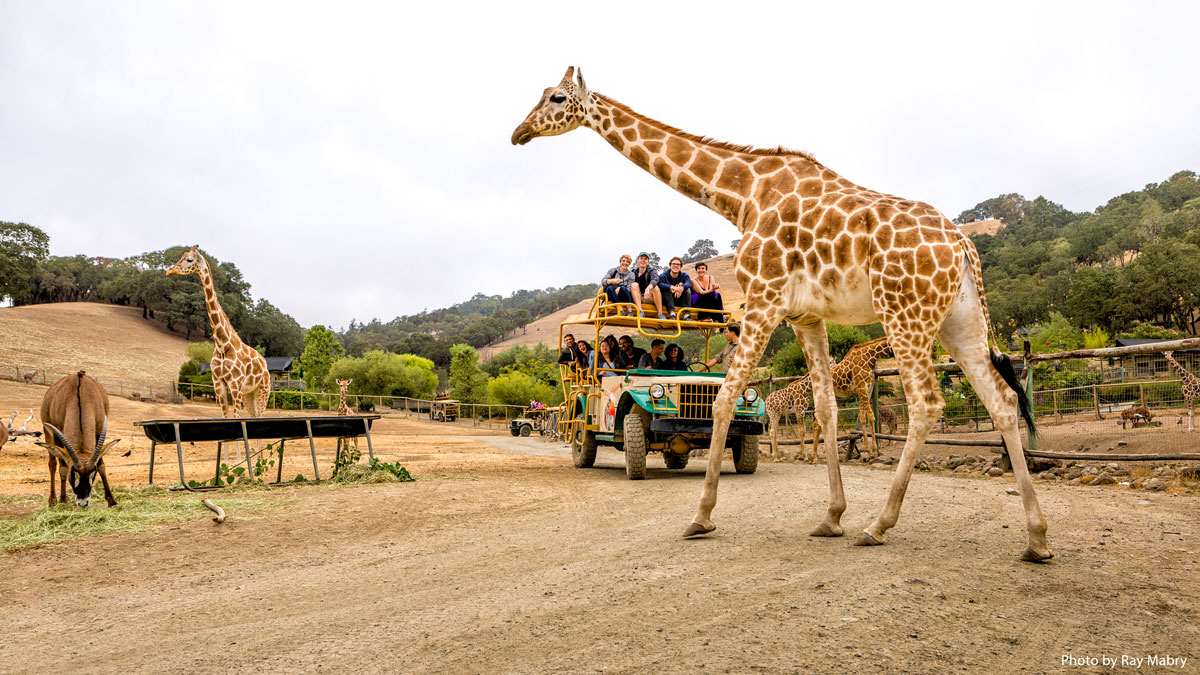 Safari West c/o Safari West Facebook Page
Tents are imported from Botswana and then customized right on the property. There are 30 tents, each of which have ensuite bathrooms, polished hardwood floors, and a private viewing deck. The bonus? You'll feel like you're spending the night in the Serengeti, not Sonoma, California.
Located around an hour from Yellowstone, in the exclusive Moonlight Basin, you'll find Collective Yellowstone. Here you can relax in luxury tents with king-sized beds and one of the most scenic backdrops in the country. During the day, enjoy a wide variety of outdoor activities, from hiking and horseback riding to fishing and rafting.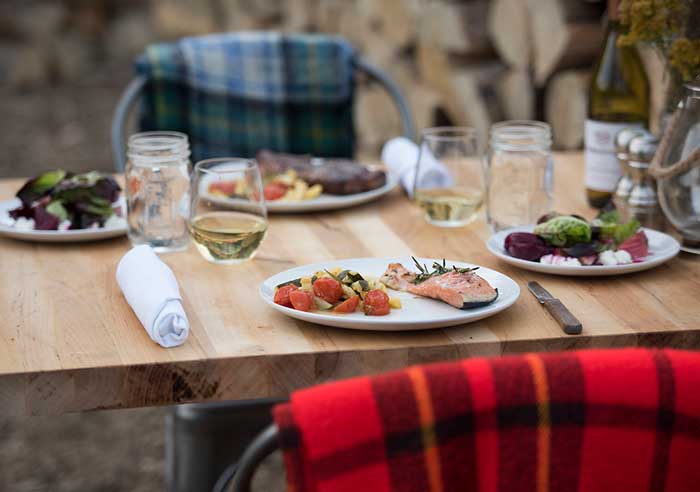 Image of farm to table dinner from Collective Retreats website 
When the sun sets, you'll enjoy a private chef's meal under the night sky and make s'mores by the campfire. Retire back to your luxury tent where you can curl up under your 1,500 thread count sheets, down comforter, and Pendleton blanket.
Another great spot in Montana is the Resort at Paws Up in Greenough. This is more than just a cool glamping spot — this is the total package. You have multiple camps to choose from and tons of pampering, in addition to the killer views. Located on the Blackfoot River, daily activities at the Resort at Paws Up can be wild and extreme, from cattle wrangling and fly fishing to hot air balloons and helicopter rides.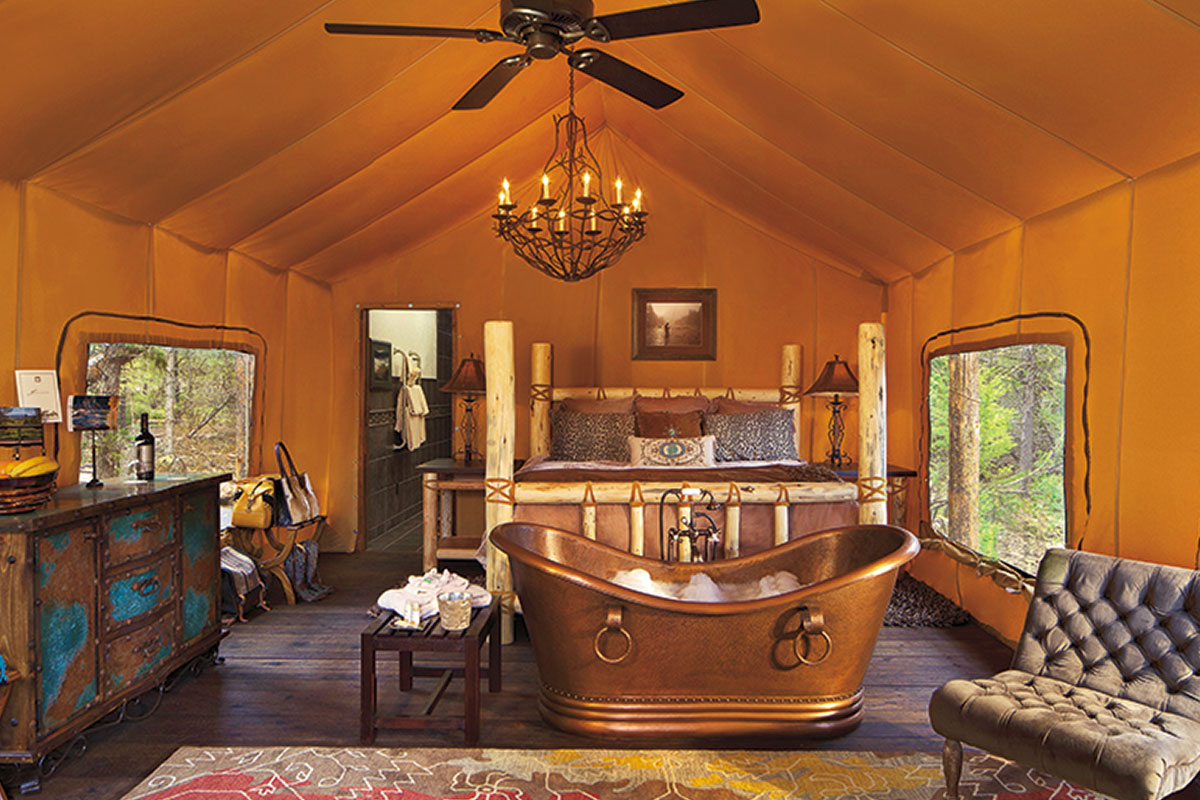 Honeymoon Luxury Tent c/o The Resort at Paws Up website 
If you're still on the fence about glamping, here you can book a week long holiday that gives you four nights in a luxury home and three nights in one of their six luxury camps. It's almost like having two vacations in one.
If you're planning a holiday to the Orlando theme parks, you may need to decompress afterwards. Reserve a few extra days and head about 90 minutes south of Orlando to the Westgate River Ranch Resort. Here you'll find 10 luxury teepees, each with 650 square feet of space.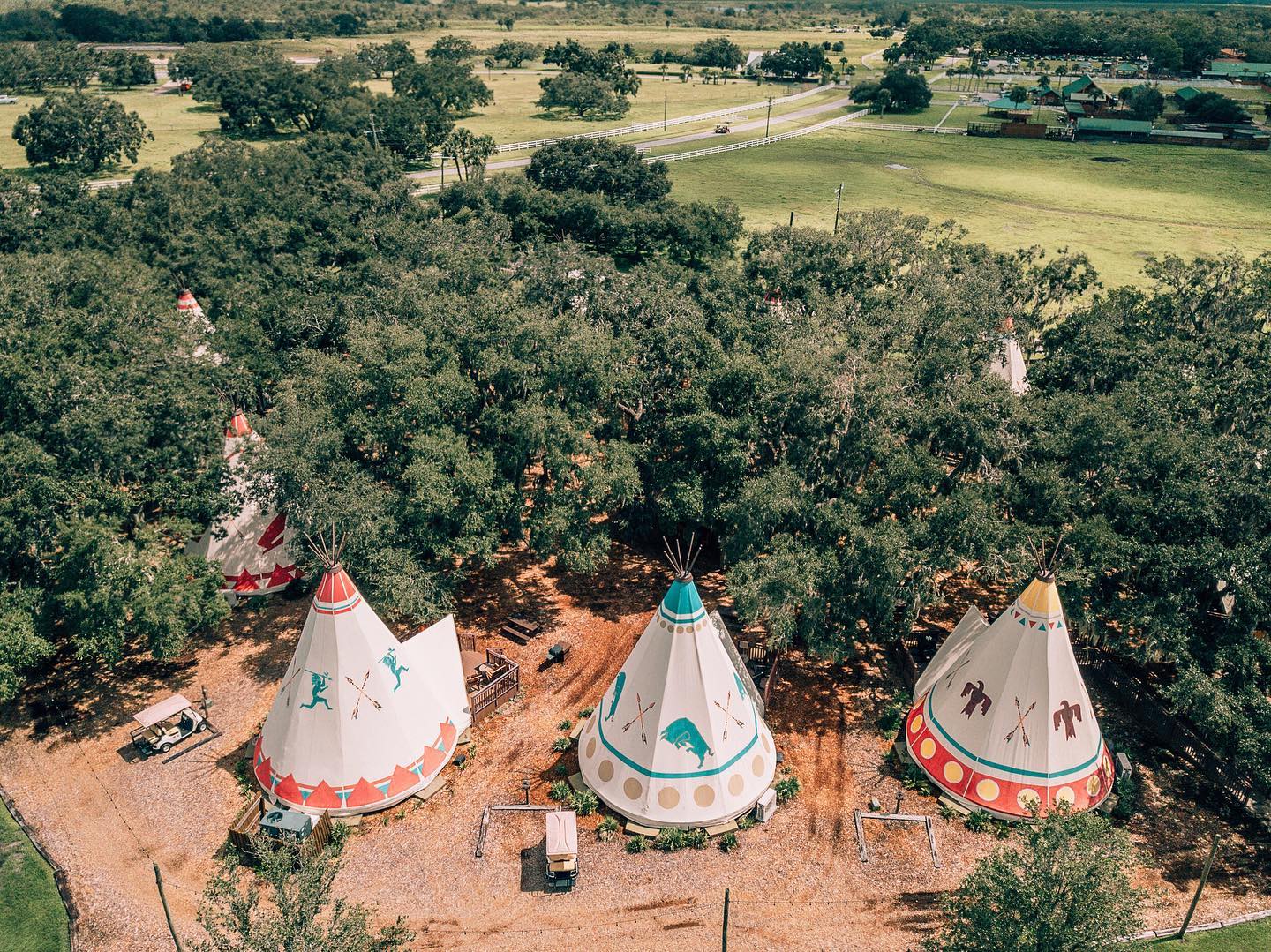 Luxury teepees c/o Westgate River Ranch Resort and Rodeo
Each one can hold up to four people, has screened private patio decks, air conditioning and heat, king-size beds, mini-refrigerators, stone rock hearth fireplaces, and more.
At the Fireside Resort in Jackson Hole, Wyoming, there are 25 lodging options to choose from. Cabins are sustainably built and offer modern and luxurious amenities. You'll find different styles depending on your needs, including Caboose Cabins that sleep up to six people.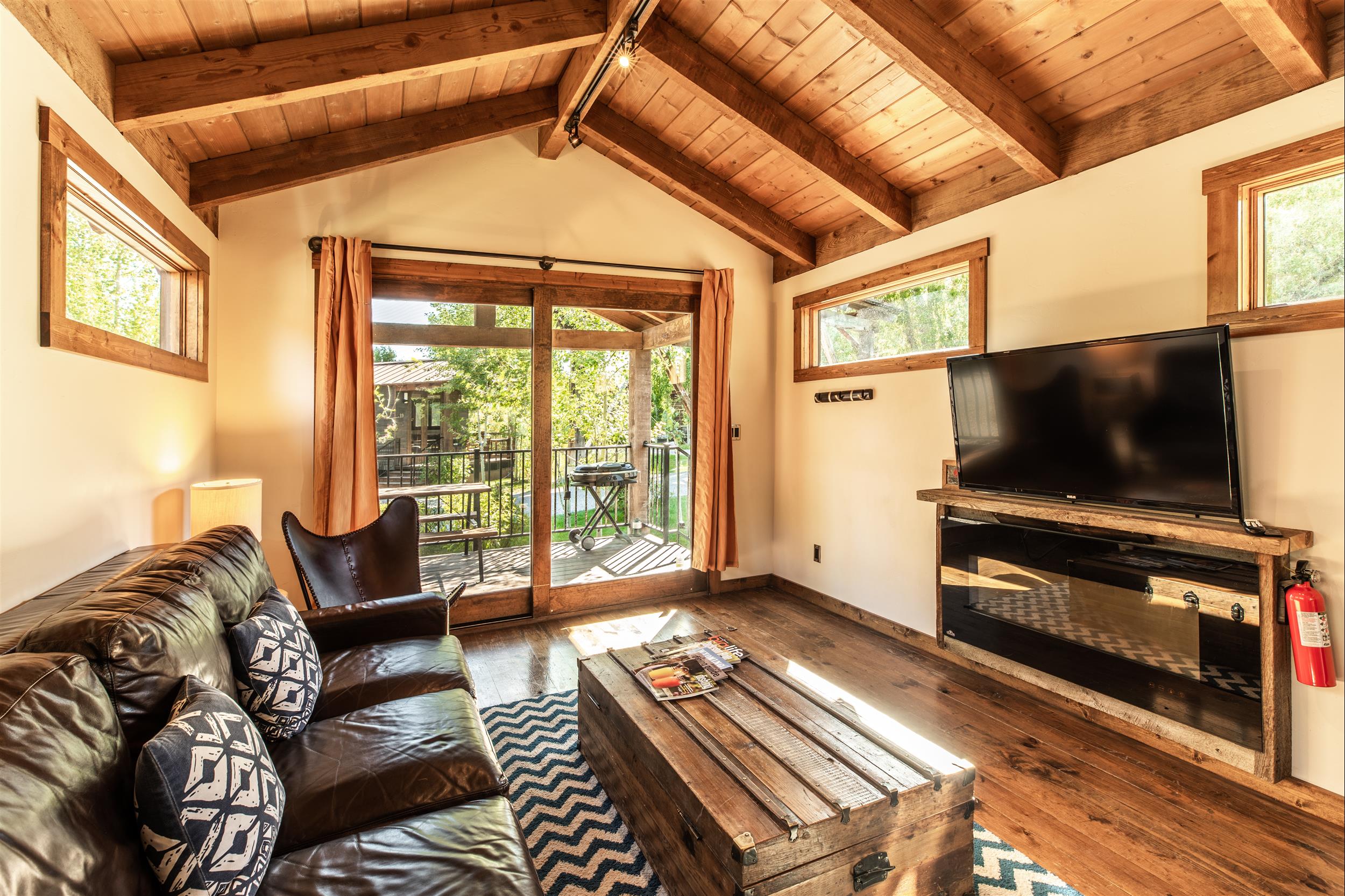 Caboose cabin c/o Fireside Jackson Hole's website
No matter what time of year you visit, there are plenty of outdoor activities available. The resort is also located nearby to noted attractions like Yellowstone National Park and Grand Teton National Park.
Guests looking to book a suite at Ventana Big Sur can opt for an incredible glamping experience instead. Luxury campsites are situated within a 20-acre canyon. This allows you to be in the heart of Big Sur, without sacrificing luxury.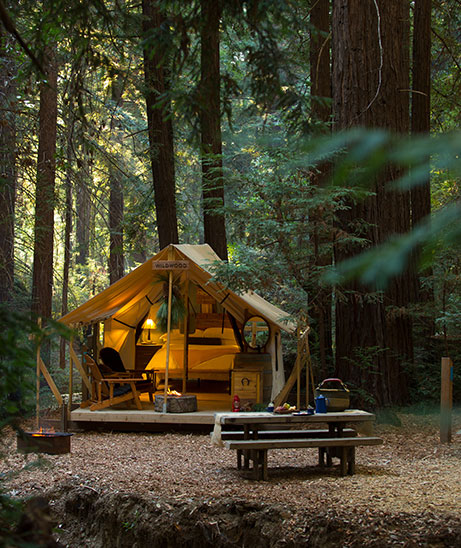 Glamping c/o Ventana Big Sur website
For an even more exclusive experience, choose a site at the Canyon Glampsites, they are more remote and can only be reached on foot. Another unique experience is the new Bath House with heated floors, teak-enclosed showers, hotel amenities, and modern restroom facilities.
Imagine glamping in an original gold mining settlement? At Under Canvas Mount Rushmore, you can enjoy seasonal glamping, usually between early May and the end of September. By day, you'll enjoy views of Mount Rushmore, by night you will find yourself under star-filled skies. There are multiple tent options, some geared toward couples, while others are better suited for families.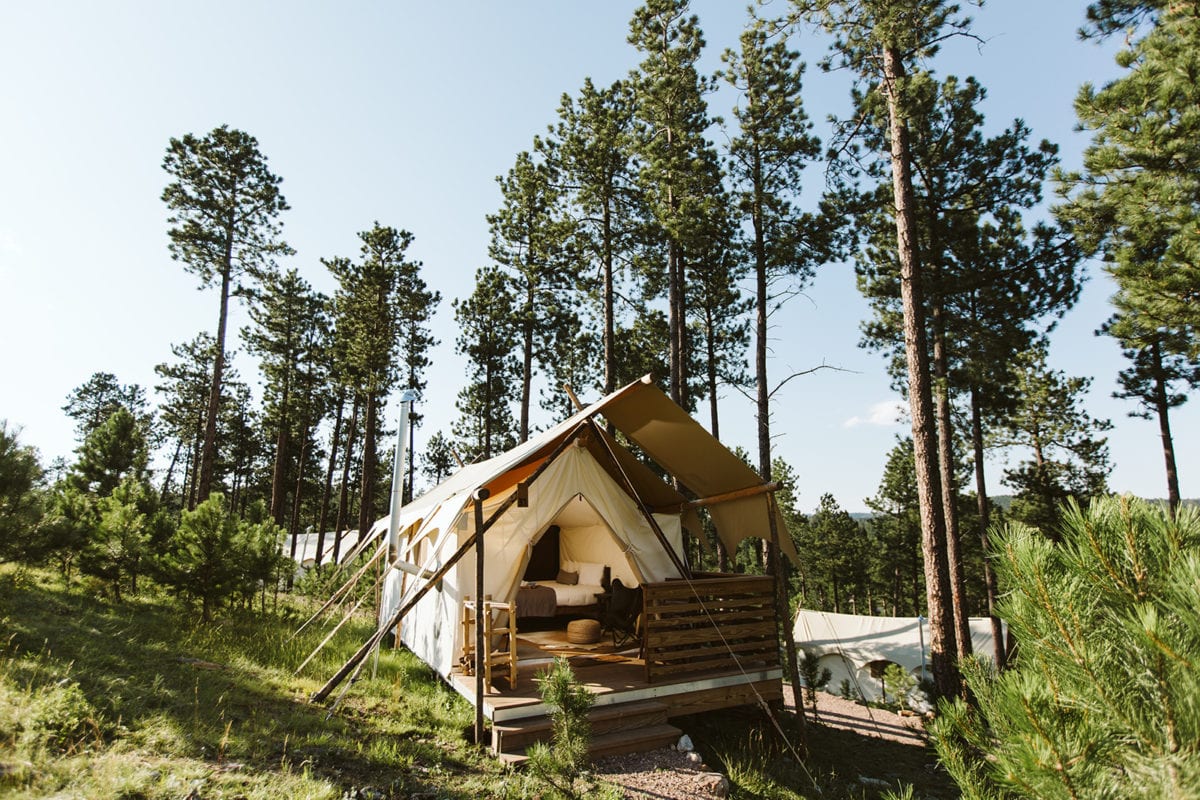 Deluxe with Adjacent Hive c/o Under Canvas website
It's important to note that some have private baths, while others require the use of communal bathrooms. If you're traveling with kids and want some private space, some tents have an "adjacent hive" with twin beds right next door.
At Conestoga Ranch, you have the option to book a luxury tent, or, for a truly unique experience, book a four- or six-person Conestoga wagon. For luxury and romance, book the Royal Tent Suite. It's situated on a private hilltop location with views of Bear Lake and has a claw-foot tub and campfire patio.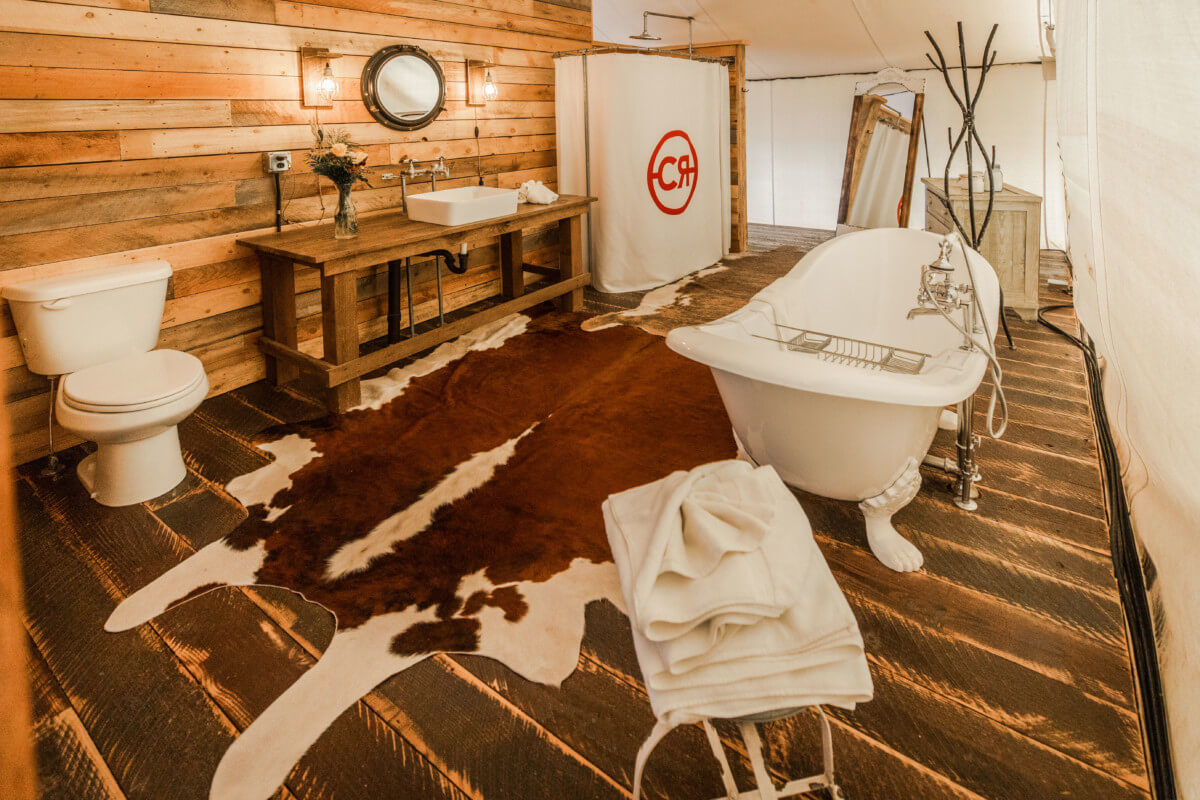 Royal Tent Suite c/o Conestoga Ranch's website
The stylish 18 acres also includes a game tent, massage tent, and a main lodge with private spa-style bathrooms. Conestoga Ranch is close to a number of other exciting destinations, including Grand Teton and Yellowstone National Parks and Jackson Hole.
Head to Colorado for Dunton River Camp in Cresto Ranch. Views of the Rocky Mountains abound, including the 14,000-foot El Diente Peak, if you choose a mountain tent. Or, choose Dolores River views instead. No matter which view you choose, you'll have king-size beds, six-foot-long bathtubs, and private decks with lounge chairs.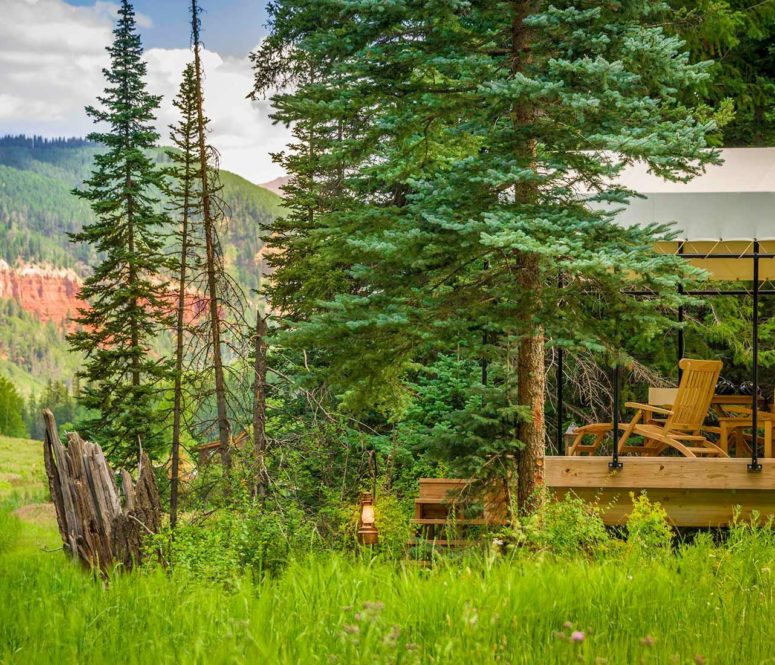 Cresto Ranch was a former cattle ranch dating back to the 1800s. The original farmhouse is still standing and includes around 500 acres of forest, fields, and meadows. On the grounds, you'll also find a sauna, riverside spa, and private yoga classes.
Have you ever wanted to stay in a vintage Airstream? Silver Bullet Retreats in Central Florida will not only let you glamp in one, you get to pick the location. You choose your campsite, and they will deliver the vintage decorated trailer right to you.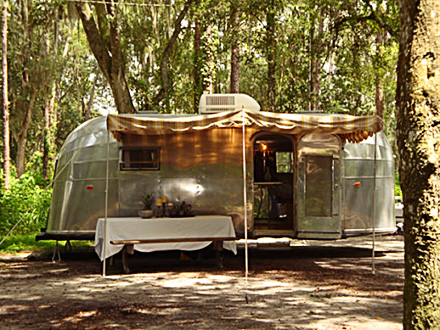 Vintage Airstream c/o Silver Bullet Retreats website
Choose from a number of recommended parks or you can choose some that are a little further away, for which you'll incur a minimal surcharge. You can even choose Disney's Fort Wilderness Campground (highest surcharge). When your trip is over, Silver Bullet Retreats will tow the Airstream away and you won't need to worry about a thing.
Sandy Pines Campground is another seasonal glamping option that kicks off its season every May. The grounds include a secluded beach forest that is surrounded by a salt marsh. New to the lodging line up are the Oasis Dome, Shepherd's Hut, Airstream, Glass House, and Conestoga Wagons.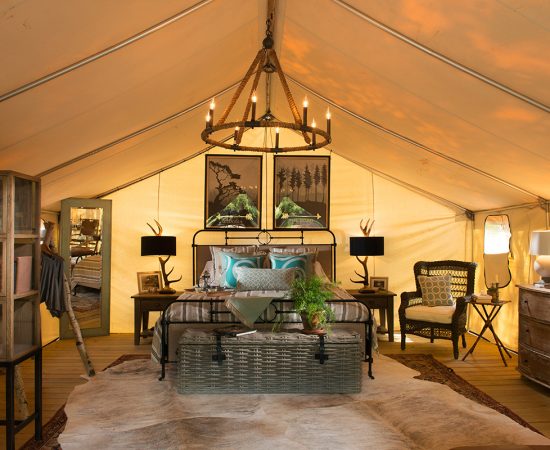 Glamping c/o Sandy Pines Campground
Located near Dock Square and Goose Rocks Beach, Sandy Pines is an ideal spot for some summertime glamping in Maine. There is a heated saltwater pool, a general store, playground, kayak and paddleboard rentals, and more.
Take glamping to a whole new level and book a stay at Borealis Basecamp in Fairbanks, Alaska. These sleek fiberglass domes have been constructed in a similar manner to ones used for research stations and polar expeditions. These may be a bit more rustic than some other options, but the trade-off is the big viewing area from where you have a chance to see the Northern Lights.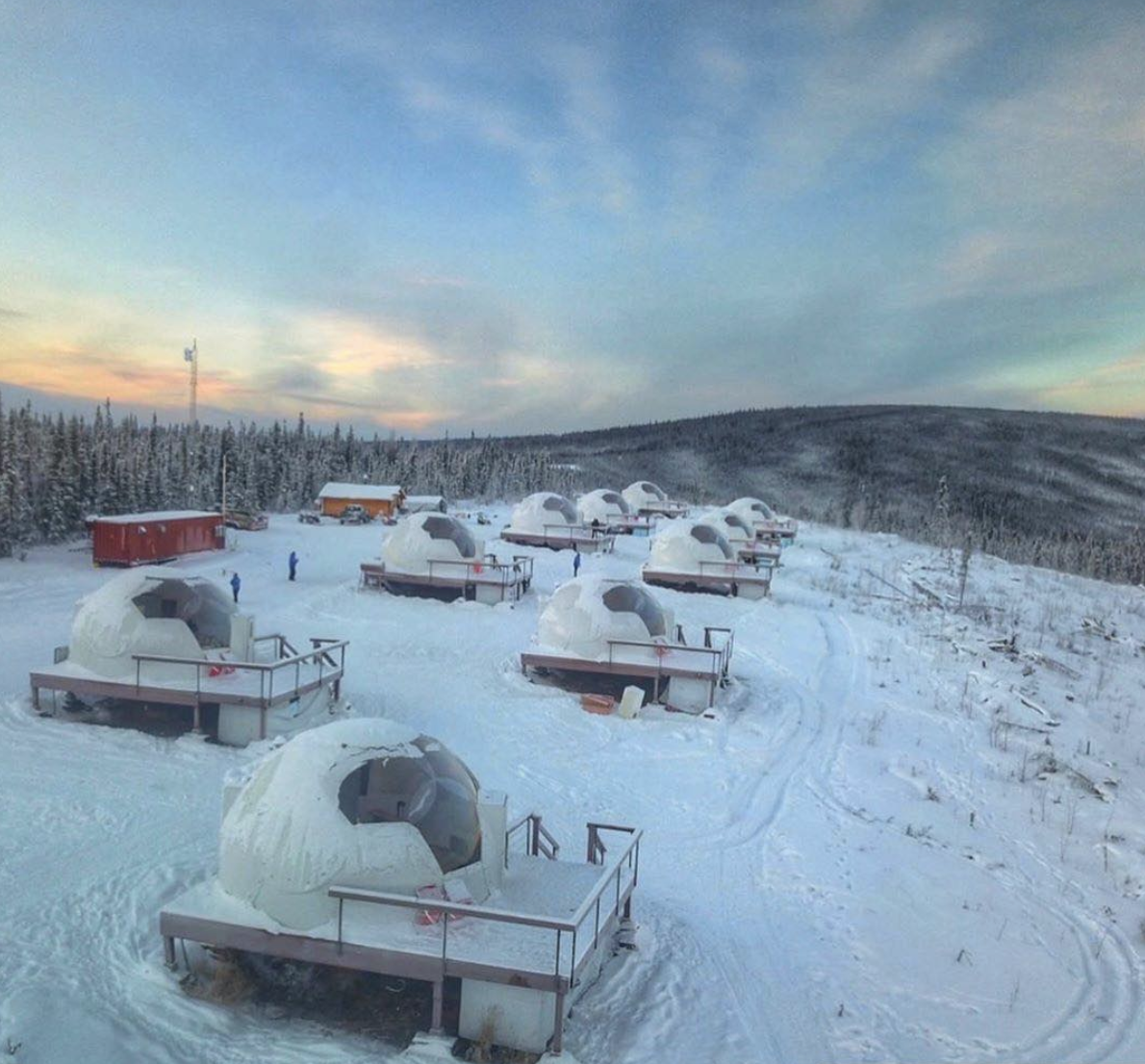 Domes c/o Borealis Basecamp Instagram
You'll have 16 feet of clear, curved windows, which means you can stay warm and comfy in your bed while watching the outdoor scenery. Inside you'll find luxurious furnishings, a kitchenette, and private bath.
Check out Glamping Hub's website for a wide variety of one-of-a-kind rentals, including Hobbit Houses on a crop farm near Nashville. (You can also book this on Airbnb.) There are three houses in total, providing you with space for up to eight people. Two houses are for sleeping while the other has a small kitchen and dining room.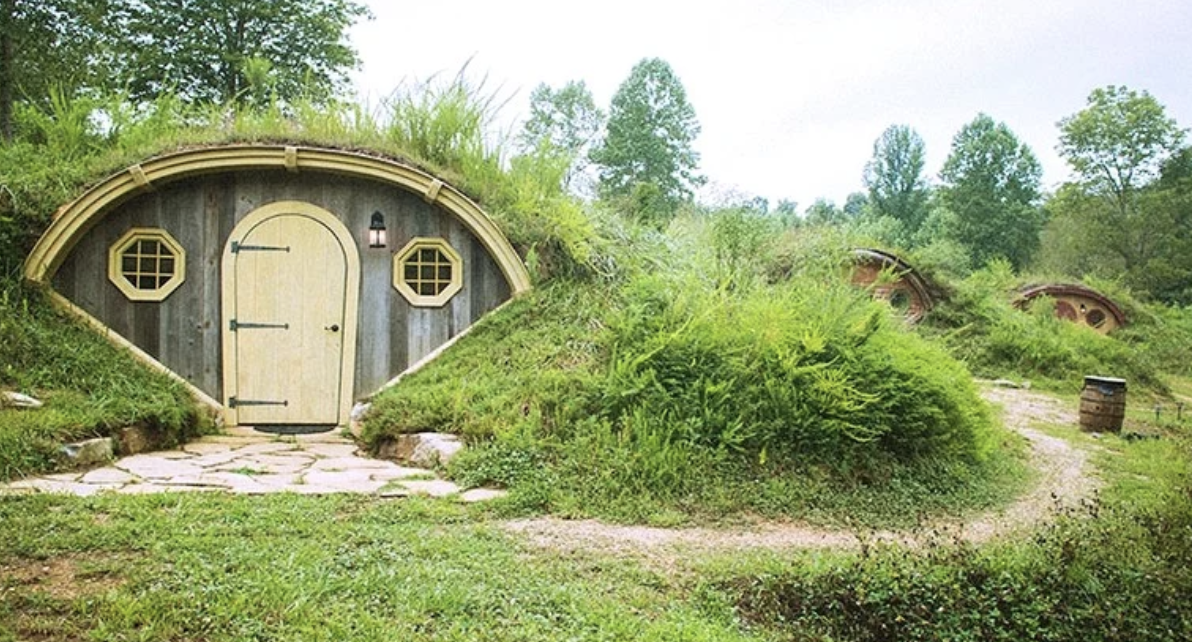 Hobbit House c/o Glamping Hub
The grounds border lush woodlands, with a creek and wildlife nearby. The kitchen house is stocked with cooking supplies and utensils so you can cook all your meals as well.
Head 90 minutes north of San Francisco to the Russian River for another Airstream glamping experience. The vintage trailer is beautifully decorated, with hotel-quality bedding and a spa-like bathroom. In addition to the Airstream, you'll find canvas tents and a luxurious communal area with indoor/outdoor fire pits.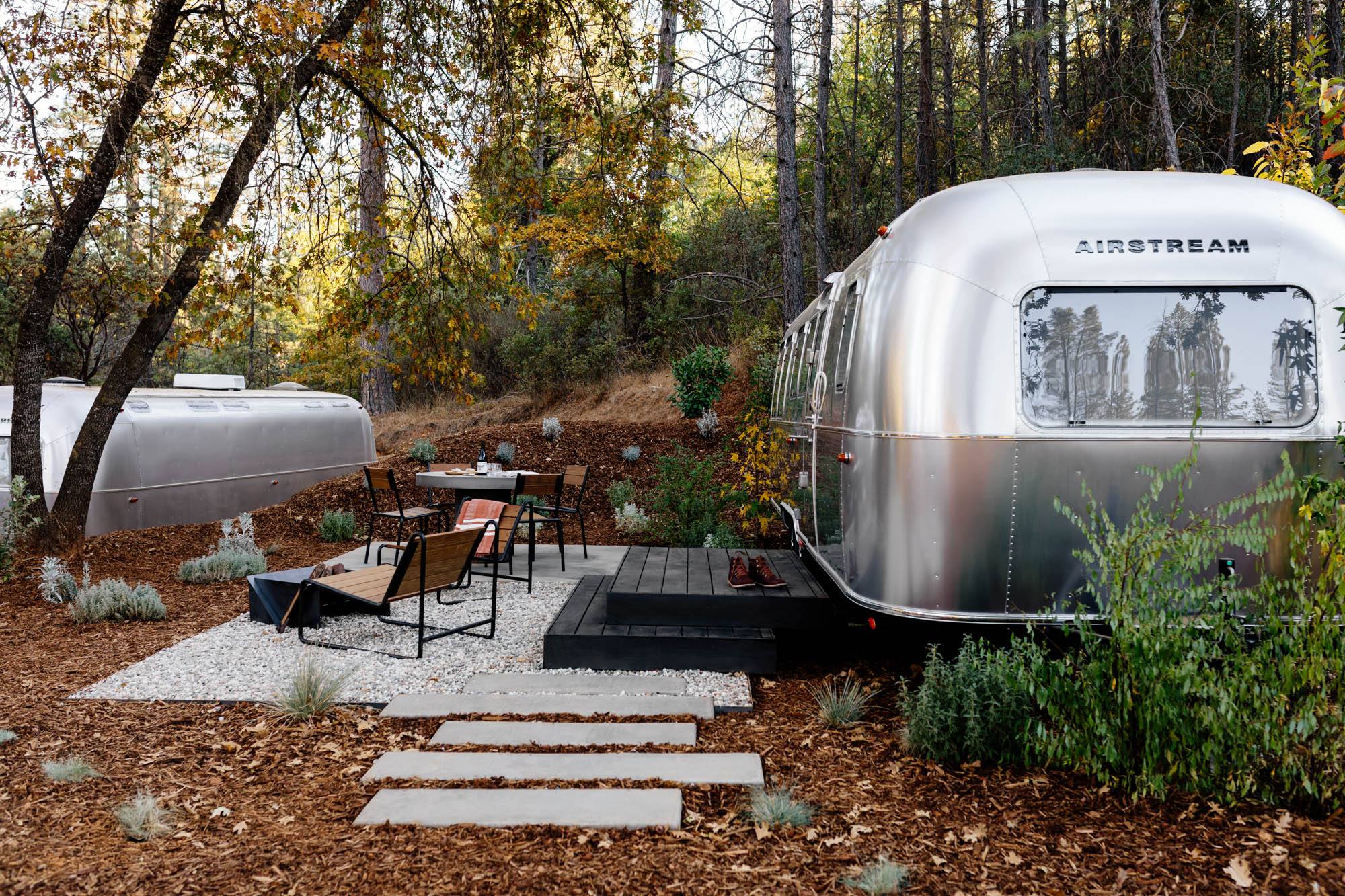 Airstream c/o Autocamp Facebook page 
The camp is located among native Redwood trees, and you can easily reach the river and the downtown area of Guerneville by walking or on a bicycle. Autocamp also has several other locations in California, and one in Cape Cod as well.
Yurts, plus scenic Big Sur views, mean you're in for a treat when you glamp at Treebones Resort. You can also choose from other lodging options as well, albeit far more rustic. One is the Human Nest, an outdoor retreat that resembles a bird's nest or the Twig Hut, a two-story hut made from twigs.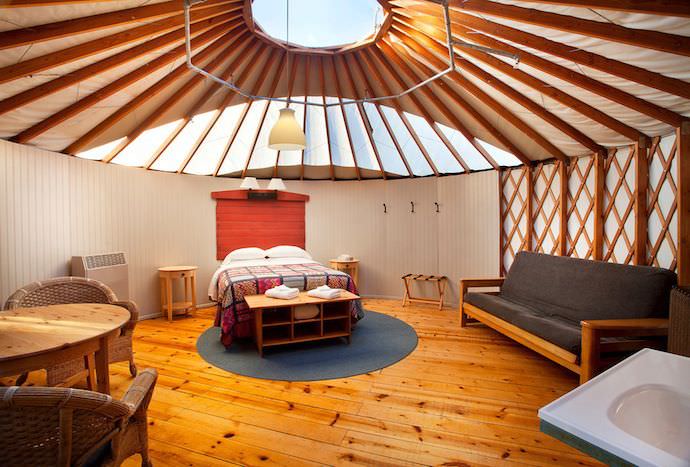 Yurt c/o Treebones Resort
If you stick with the yurts, you'll have ample space, with either a king-size bed and full ocean views or a queen-size bed and partial ocean views. All accommodations utilize shared bathrooms.
Upstate New York's Finger Lakes District is renowned for its glacial lakes, fine wines, and tons of outdoor adventure possibilities. At Firelight Camps, you'll glamp in furnished tents that feature plush double queens or a king bed, hardwood floors, and a private tented porch complete with rocking chairs.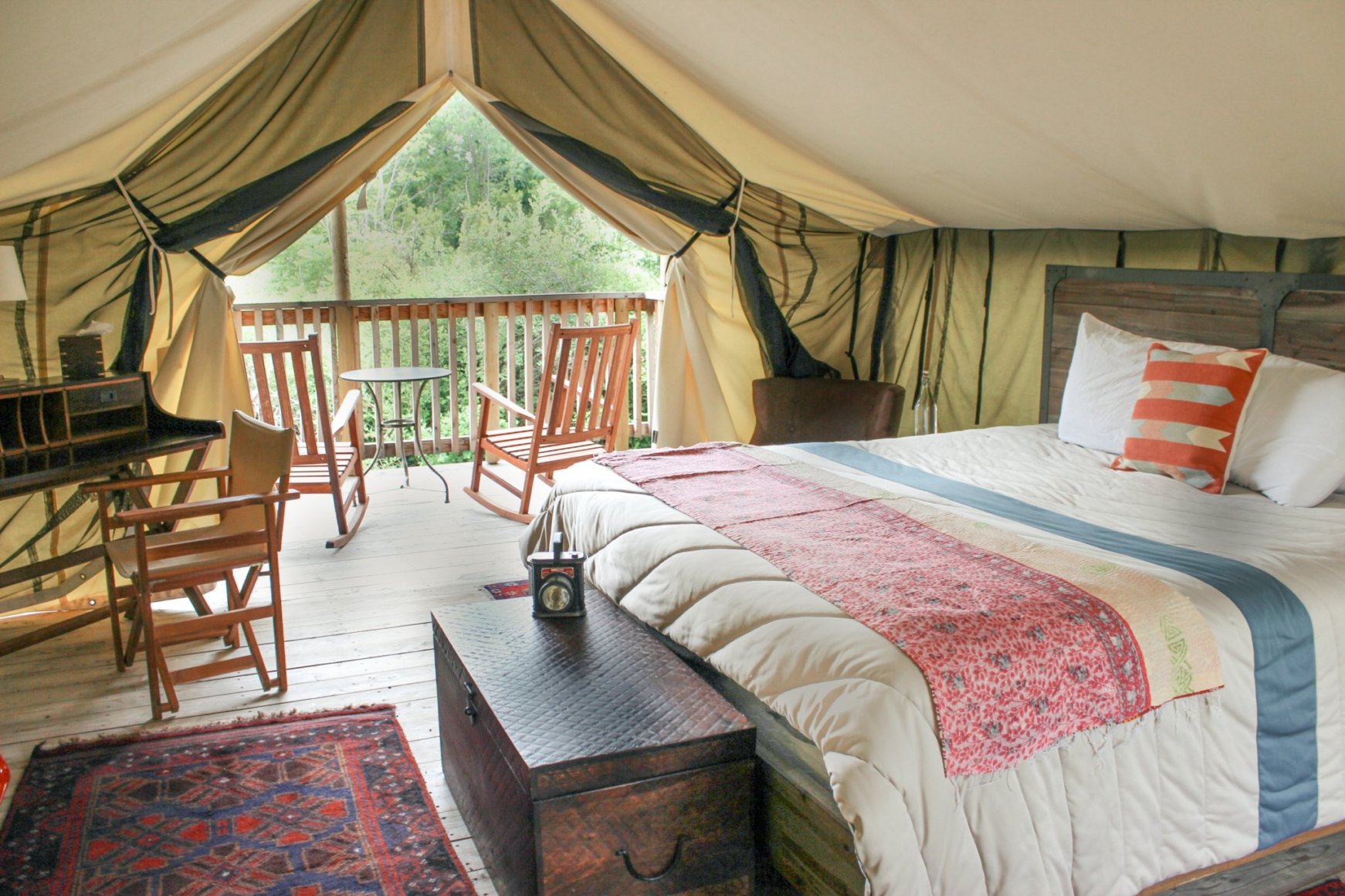 Luxury tent c/o Firelight Camps
Some tents have electric fans, heaters, outlets, and floor lamps. The bathhouse is a quick walk from the tents and has flushing toilets and hot showers. Pick up some local culinary specialties when you're exploring the Finger Lakes region and make your own picnic back at camp.
Another option for Conestoga wagon lodging is at The Rock Ranch, about an hour south of Atlanta. Larger wagons have four sets of bunk beds, ideal for larger families who want to try glamping. These wagons are more rustic and simple compared to other glamping options, but you're primarily here for the experience of living on a cattle ranch.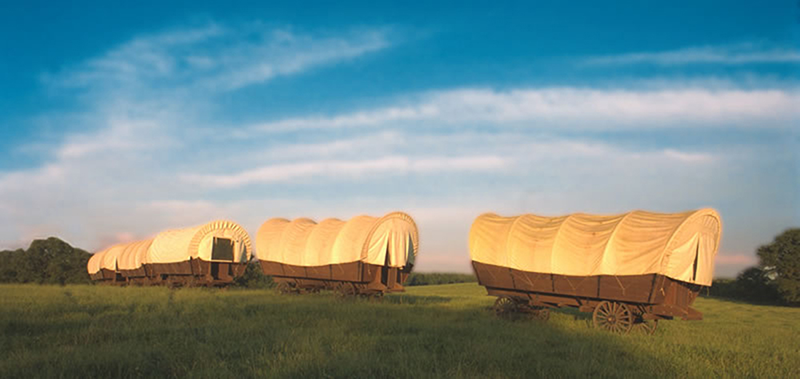 The Rock Ranch is a 1,500-acre working cattle ranch and there are tons of activities available including zip lines, pedal carts, tractor and train rides, as well as gemstone mining and a tiny town. Famous seasonal specialties made on-site include pimento cheese and strawberry ice cream.
We're finishing off our round-up of the best glamping destinations in the country with the most unique option on the list: a three-day Meat Camp. Each summer, you get to stay in luxury tent accommodations while enjoying a farm-to-fork experience like no other.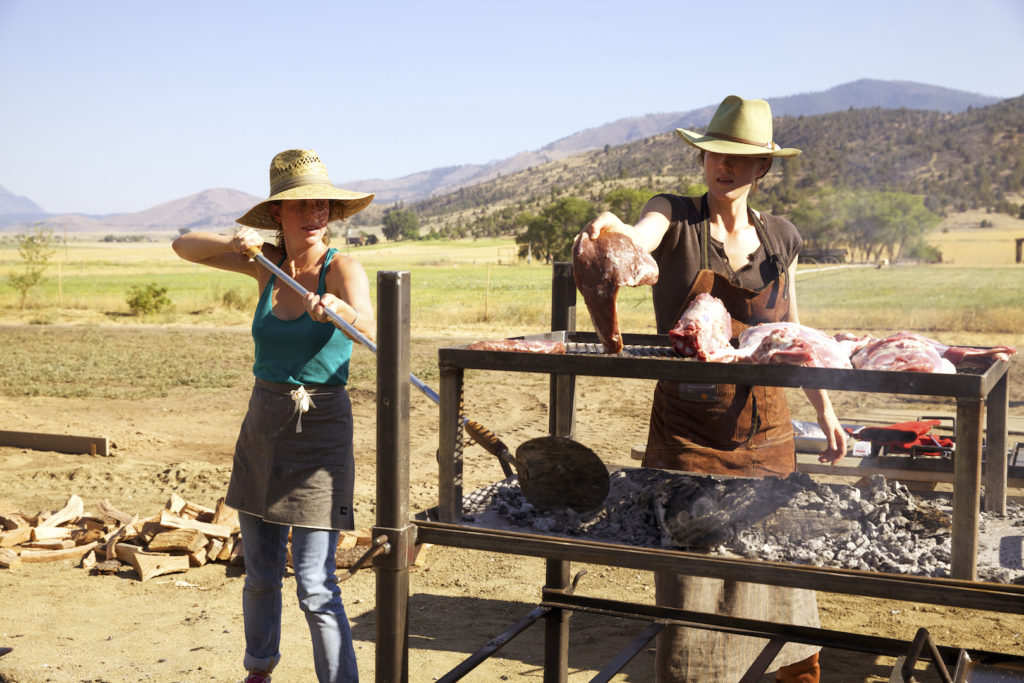 Meat Camp c/o Discover Siskiyou website
During Meat Camp, you'll get to learn about open-fire grilling with up to 25 other campers. You'll learn basic knife skills, as well as butchery fundamentals. Other activities in the area include fly fishing, rafting, hiking, lava caves, and more.
Transform your camping trip to a glamping trip at one of these stunning destinations, and you'll be in for the adventure of your life, complete with the luxuries you know you deserve. Whether you're wanting to relax, cook, or interact with some spectacular wildlife, there's a glamping experience everyone can enjoy.
You might also like: 8 Of The World's Most Instagrammed Hotels That Are Worth Traveling To